Edamame
Lightly-salted and boiled soybeans in their shells.
Tea Duck Egg Roll
Served with Maui sugar cane mustard and plum dipping sauces.
Maui-style Teriyaki Beef
Marinated and grilled in spicy Kal-bi sauce.
Shrimp Tempura
Served with traditional tentsuyu dipping sauce.
Maui Onion Tempura Rings
Served with tentsuyu dipping sauce.
Hawaiian Sweet Potato Tempura
Served with tentsuyu dipping sauce.
Sweet Asparagus Tempura Spears
Served wth tentsuyu dipping sauce.
Mixed Vegetable Tempura
Served wth tentsuyu dipping sauce.
Crispy Calamari
Served with spicy Japanese cocktail sauce.
Matsuhisa Style Miso Butterfish
Tender butterfish marinated and seared in sake
and sweet miso.
Grilled Miso-yaki Chicken
Sweet miso and sake marinated boneless chicken
thighs, grilled, sliced and served over Napa cabbage.
Broiled Miso Garlic Prawns
Served on Upcountry Kula greens with spicy umeboshi
vinaigrette.
Sansei's Lobster & Blue Crab Ravioli
Stuffed with sweet lobster, blue crab and shrimp with
truffled shiitake mushroom and Madeira cream sauce.
Hiyayakko
Cold soft tofu with fresh ginger, green onions
and katsuo bushi.
Agedashi Tofu
Lightly fried and served with a mirin-soy dashi.
Sunomono
Thinly sliced cucumber and wakame with sweet
soy vinaigrette.
- Add octopus, clams, shrimp or crab
- Add combination of octopus, clams and shrimp
Tako Shiokara
Raw octopus marinated with Korean spices.
Chinese Style Sashimi
Sashimi grade shiromi seared in hot sesame oil
with cilantro and soy.
Roasted Japanese Eggplant
Served with sweet miso-sake sauce.
Wok Tossed Upcountry Vegetables
With Asian black bean chili butter.
Grilled Upcountry Shiitake Mushrooms
With tangy soy-ponzu sauce.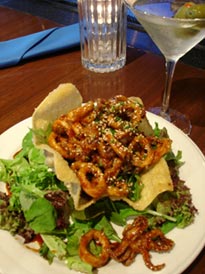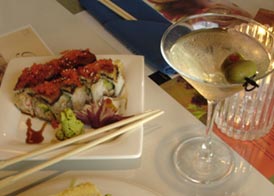 Japanese Calamari Salad
Calamari fritti tossed in spicy kochujang vinaigrette served over
Kula greens in a crispy won ton basket.
Upcountry Salad of Organic Kula Greens
With choice of umeboshi (Japanese plum), soy-
sesame-onion or balsamic vinaigrette.
Classic Caesar Salad
With garlic chili croutons and parmesan cheese -- OR --
topped with crispy fried calamari (additional charge)
Seared Ahi Salad
Seared Hawaiian ahi over Upcountry Kuly greens
with soy-sesame-onion vinaigrette.
Dungeness Crab Ramen with Asian Truffle Broth
Garnished with cilantro, Thai basil and mild jalapenos
Thin Ramen Noodles
With roast pork and tempura shrimp in homemade dashi
Japanese Udon Noodles
With roast pork and tempura shrimp in homemade dashi
Traditional Miso Soup
With soft tofu, wakame and green onions.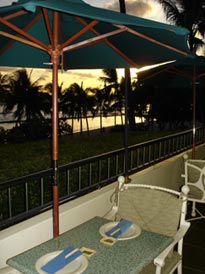 Grilled Hawaiian Fresh Fish of the Day over Kula Greens
Served with a spicy umeboshi (Japanese plum) vinaigrette
Entree or Appetizer
Shichimi Seared Fresh Atlantic Salmon & Tiger Prawn
Served with shiitake mushrooms, asparagus and Soy Butter Sauce.
Roasted Japanese Jerk Chicken
With roasted garlic mashed potatoes, Upcountry vegetables
and fresh herb beurre fondue
Chili-Porcini Mushroom Crusted Filet of Beef Tenderloin
Served over roasted garlic mashed potatoes in shiitake
cabernet-demi-glace.
Ginger Hoisin Smoked Duck Breast
With sauteed fresh spinach and a crispy tempura-fried
maki roll in a sweet soy demi-glace.
Shichimi Filet of Beef and Udon Noodles
Tender beef filet over udon noodles with a garlic
demi-glace, shaved asiago cheese and green onions.
Appetizer or Entree.
Grilled Pork Chops
Over roasted garlic mashed potatoes with sauteed
fresh spinach and Japanese au poivre sauce.
Cracked Peppercorn Grilled New York Steak
With shiitake mushroom, "Potato Risotto", grape tomato
salad and garlic jus.
Grilled Fresh Hawaiian Ahi and Asian Shrimp Cake
With furikake rice cake, ginger lime chili butter
and cilantro pesto.
Sansei's Seafood Pasta
Black tiger prawns, sweet ocean scallops and Upcountry
vegetables wok-tossed with Chinese chow funn noodles
in spicy black bean chili butter.
Sansei's Upcountry Vegetarian Pasta
With Chinese chow funn noodles in spicy black bean
chili butter.
Traditional Japanese Shrimp & Vegetable Tempura
With fresh grated daikon, ginger, tentsuyu dipping
sauce and steamed rice.
Whole Lobster Tail and Spicy Crab Cake
Roasted warm water lobster tail topped with a
panko-crusted spicy crab cake with massago and
cilantro, served over linguine tossed with creamy sambal aioli.
1/2 Lobster Tail and Spicy Crab Cake
for a lighter appetite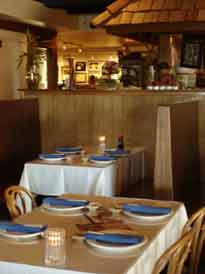 Panko Crusted Ahi Sashimi Sushi Roll
Sashimi grade Hawaiian ahi, arugula and spinach wrapped into
a sushi rool, panko-crusted, flash-fried and served with Sansei's
mild soy wasabi butter sauce.
Sansei's Mango Crab Salad Roll
Sansei's Asian crab salad, ripe mango, Kula greens and crunchy
peantus wrapped in a mamenori handroll and served with
Thai chili vinaigrette.
Kapalua "Butterfry" Roll
Smoked salmon, crab, fresh shiromi and veggies in crispy
panko batter, served with tangy ponzu sauce.
Seared Foie Gras Nigiri Sushi
Lightly seared foie gras served with caramelized Maui onions,
ripe mango and rich unagi glaze drizzle.
Sunset
Ahi and yellowtail tuna topped with masago and uzura.
Alaskan
Fresh salmon and shiso topped with salmon roe.
California Roll
Crab, avocado and cucumber.
Tuna Roll
Tekka maki of Hawaiian ahi.
Spicy Tuna
Hawaiian Ahi with spicy sambal.
Hawaiian Roll
Ahi, cucumber and avocado
Negi Hama
Japanese yellowtail & green onions.
Spicy Hamachi
Japanese yellowtail with spicy sambal.
Unagi Eel Roll
with cucumber and kaiware sprouts.
Anago Eel Roll
with cucumber and kaiware sprouts
Spider Roll
Crispy tempura soft shell crab, cucumber and kaiware sprouts
with sweet Thai chili sauce and unagi glaze.
"69" Roll
California Roll rolled inside-out and topped with
unagi and masago.
Sansei Special Roll
Spicy crab, cilantro and fresh veggies, dusted with
furikake and served with sweet Thai chili sauce.
Yaki-Maki Sushi Roll
California roll wrapped with smoked salmon and baked
with Sansei's Special Dynamite Sauce.
Yellow Submarine Roll
Shrimp, kampyo, cucumber, masago, kaiware sprouts
and pickled ginger.
Takah Sushi Special Roll Named in Honor
of Takah Sama, Aspen, Colorado
Shrimp, shi, crab, avocado and cucumber, inside-out and
crusted with masago.
Spicy Japanese BLT Roll
Crispy salmon skin, Kula greens, tomato and spicy
masago aioli.
Shrimp Tempura Roll
with veggies and unagi glaze.
Scallop and Cucumber Roll
Scallops, cucumber and masago aioli
Salmon Skin Roll
Crispy salmon skin with gobo, cucumber and
katsuo bushi.
Rainbow Roll
California roll wrapped with slices of ahi, salmon and avocado.
Lobster & Asparagus Roll (when available)
Spiny lobster tail and asparagus.
Pink Cadillac
Pink Mamenori with eel, shrimp, tamago and veggies.
Caterpillar Roll
Unagi rolled inside-out, wrapped with avocado and topped
with masago and unagi glaze.
Bagel Roll
Smoked salmon, maui onions and cream cheese.
Shiso-Mentaiko Roll
Spicy cod roe and shiso.
Paia Maki
Kula greens, avocado sprouts, cucumber and pine nuts.
Grilled Veggie Roll
Grilled shiitake mushrooms, squash, roasted red peppers,
creamy avocado, cucumber and kaiware sprouts.
Cucumber and Avocado Maki
Kappa Maki
Cucumber roll
Kampyo Maki
Japanese sweet squash roll
Gobo Maki
Japanese pickled burdock roll
Takuwan Maki
Pickled radish roll
Natto Maki
Fermented soy beans with green onions
Ume Shiso Maki
Japanese plum paste with shiso
Asparagus Maki
Fresh Ma'alaea asparagus roll
ISSEI Combination
Ahi, yellowtail, salmon and tamago sushi with California
or spicy tuna roll.
NISSEI Combination
Ahi, yellowtail, shiromi, shrimp, salmon tamago and
tako sushi with California or spicy tuna roll.---
Sushi or Sashimi

Avocado
Abocado
Egg
Tamago
Salmon-fresh
Sake
Salmon-smoked
Sake
Mackerel
Shime Sabe
White Fish
Shiromi
Tuna
Maguro
Yellowtail
Hamachi
Shrimp
Ebi
Sweet Shrimp
Amaebi
Octopus
Tako
Squid
Ika
Scallop
Hotategai
Baked Sweet Scallops
Sushi
Surf Clam
Hokkigai
Fresh Water Eel
Unagi
Sea Eel
Anago
Crab
Kani
Flying Fish Roe
Tobiko
Salmon Roe
Ikura
Smelt Roe
Masago
Quail Egg
Uzura
Jumbo Clam
Mirugai
Sea Urchin
Uni
SUSHI BAR SPECIALTIES
Fresh Hawaiian Ahi Carpaccio
Grade "A" Sashimi flattened thin and served with cilantro,
roasted peanuts, lime zest and sweet Thai vinaigrette.
Sashimi Trio
Hawaiian ahi, yellowtail tuna and fresh salmon sashimi.
"Kenny G"
Thinly sliced fresh sashimi grade shiromi with shiso,
minced garlic and masago in a tangy ponzu vinaigrette.
Sansei Style Ahi Poke
with sweet Maui onions
Ahi Tataki Salad
Fresh Hawaiian ahi tossed with Maui onions, wakame and
kaiware in a spicy ponzu vinaigrette.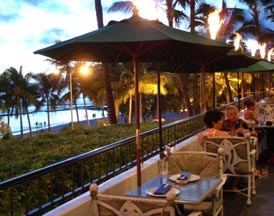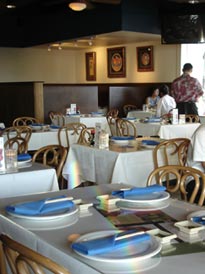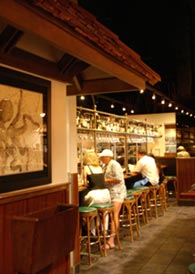 Sansei's "Granny Smith" Apple Tart
Butter puff pastry topped with fresh Granny Smith apple
slices, baked to order and served with vanilla ice cream
over Sansei's homemade warm caramel sauce.
Tempura Fried Ice Cream
Vanilla ice cream wrapped with butter pound cake, rolled
in roasted macadamia nuts, flash-fried and served with
chocolate sauce.
Classic Creme Brulee
Creamy New York Style Cheesecake
with strawberry sauce
Rich Green Tea or Vanilla Ice Cream
Our Keiki menus include a Choice of Ice Cream
and a Soft Drink
(for children 12 years and under, please)
Crispy Chicken Breast Strips
with French fries and a ranch dipping sauce 8.95
Angel Hair Pasta
Tossed in either a Garlic Cream or Olive Oil with Cheese Bread 8.95
"Little Ninja's " Sushi Combo
A Hosomaki of 2 pcs. Oshiko maki, 2 pcs. Kappa maki, 2 pcs. Kampyo maki Tamago & Ebi Sashimi with a Furikake Musubi & Edamame 8.95
Grilled Miso Yaki Chicken Strips
Marinated in Sweet Miso & accompanied with Gohan 8.95
Keiki Kalbi Steak
Local Style Boneless Korean Teriyaki Beef with Gohan 9.95
Menu items and prices subject to change without notice.