■■■■■■■ Lunch & Dinner ■■■■■■■

PRETZELS (V)
beer cheese, spicy porter mustard 9

CHICKEN DRUMMIES
six drumsticks, buffalo style or maple-bourbon,
celery sticks, carrots, ranch dressing 10

MIDWEST 'NACHOS' (V)
garlic-asiago cream, maytag blue cheese, scallions,
house made kettle chips 8

CALAMARI
cherry pepper relish, red sauce, roasted
garlic aioli, lemon 10

SWEET POTATO TOTS (GF)
fried crispy, smoked tomato ketchup 7

VEGETABLE LETTUCE WRAPS (V)
rice noodles, napa cabbage, carrots, cucumber,
leaf mint, pineapple sauce 7
add: tofu 4, chicken 4, salmon 5, steak 6

■■■■■■■ Salads ■■■■■■■

BABY GREENS (GF)
pear, spicy pecans, fontina, apple cider vinaigrette 8

SKIRT STEAK (GF)
grilled new potatoes, onion strings, feta,
romaine, chimichurri vinaigrette 14

CAULIFLOWER & BABY KALE (V)
warm cauliflower and herbed barley salad,
roast sweet potato, walnut dressing 9

GRILLED CHICKEN (GF)
tomato, cheddar, romaine, mixed greens,
hot bacon, dressing 13

CHIPOTLE CAESAR (GF)
crispy tortilla, pico de gallo, parmesan, romaine 8

HOUSE SALAD (GF)
tomato, cucumber, cheddar, romaine,
mixed greens 7

■■■■■■■ Soups ■■■■■■■
SMOKED PORK GREEN CHILI...4/6
BLONDE LAGER & SMOKED GOUDA SOUP...4/6

DAILY SPECIAL...4/6
all sandwiches and burgers are served with your choice of
potato wedges, sweet potato tots, or steamed vegetable.
COLORADO BISON PATTY MELT
beer braised onions, swiss, 1000 island, marble rye 14

PANKO CRUSTED CHICKEN
mozzarella, marinated tomato salad, baby
arugula, focaccia 10

50/50 SLIDERS* (H)
half bacon, half beef, cheddar, bacon-jalapeno
jam, coleslaw, pretzel bun 13

TURKEY COBB
roast turkey, applewood bacon, tomato, avocado,
maytag blue cheese, seven grain bread 11

COLORADO BURGER
choice of cheese, onion, tomato, lettuce,
pickle, kaiser bun 12

MUSHROOM PO' BOY
panko dusted mushrooms, marinated tomato,
bibb lettuce, cajun remoulade 10

(GF) item may be prepared gluten-free
(V) vegetarian item
(H) Be a Hero: We will donate $1 from every 50/50
Sliders to help feed the hungry.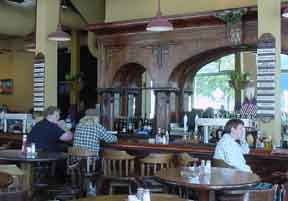 FISH & CHIPS
coleslaw, tart, lemon 11

PORK BELLY TACOS
pineapple-black bean salsa, napa cabbage,
ancho crema 13

CHOPS & WAFFLES
grilled pork chop, bacon-cheddar waffles,
apple-jicama salad, white bbq sauce 18

SHORT RIB POT PIE (GF)
braised short ribs, baby onions, wild
mushrooms, yukon golds, pastry crust 15

GRILLED SCOTTISH SALMON*
grilled broccoli-red onion salad, baby
tomatoes, ricotta salata, lemon zest 19

BUFFALO TENDERLOIN*
5 oz tenderloin, gorgonzola crust, caramelized
brussels sprouts, porter demi glace 23

LEMON TABASCO FRIED CHICKEN
broccoli, garlic mashed potatoes, gorgonzola 13

THAI CURRY FRIED RICE (GF) (V)
basmati, sweet peppers, green onions, tomato,
mushrooms, eggs, peanuts 12
add: tofu 4, chicken 4, salmon 5, steak 6
Menu items and prices subject to change without notice.